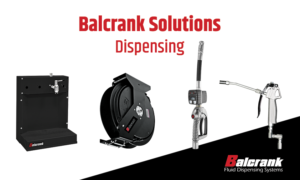 The transferring and dispensing of fluids in any environment must be met by the right equipment that offer essential performance and reliability. Therefore, Balcrank offers hose reels that include the Classic, Premium, Evolution and Extended Volume series to easily dispense fluids. From being light-weight to solid proven performers, Balcrank's reels are ready to tackle today's hose reel market demands.
We manufacture fluid dispensing handles available in metered, non-metered, and preset models. To create a dispense system in a small footprint, use a Balcrank reel stand or oil bar. Balcrank also offers pressurized and hand pump dispensers suitable for any shop's needs.
Learn more about our dispensing solutions.