|
|
-
|
Director Jr. 24 V DC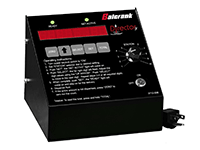 Director Jr. 24 V DC
Director Jr. manages 1 fluid for up to 10 dispense points. Simple, easy to install and use, the Director Jr. has been in use since 1987. Typical customers include small garages, dealerships, and small equipment service.
• The Director Jr. is a console designed to monitor and control fluid dispenses in a workshop from a single central location
• The Director Jr. will also manage a solenoid valve to control the air powering the pump.
• 1 fluid to 10 stations.
• Fluid measurement in pints, quarts, gallons, or liters.
• Service fluids: motor oils, synthetics, ATF, gear oils, and Anti-freeze (Glycol).
• Totalizing feature for ease of fluid inventory record-keeping.
• Large LED information display.
Part No.:
3110-031 - Director Jr Console V DC
Technical Data
BOMs
1 – 3110-031 – Director Jr. Console V DC
2 – 3120-217 – Fluid Solenoid
1 – 3120-033 – Air Solenoid
1 – 3120-114 – Pulse Meter
Balcrank recommends the use of Y-Strainers for use with all FIC systems
Monitor and control fluid dispense
non-shielded (for use with solenoid) shielded (for use with impulse meter) 18 gauge wire up to 400' 16 gauge wire 400'-600'
Input -110 VAC - Output - 24 V DC