|
|
-
|
CenterFlo 10 Series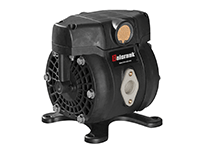 CenterFlo CF10
CenterFlo pumps can handle a wide range of fluids used for vehicle service. Typical applications are transferring and dispensing, up to 10 gal/min. They can be used as stand-alone pumps for transfer applications.
Fluids Handled
Part No.:
1120-029A - CF10 Polypropylene
1120-034A - CF10 Polypropylene / DEF
Markets Served:
Quick Lubes, Tire Shops, Car and truck dealers, In-plant transfer
Technical Data
** Balcrank does not recommend pumping windshield wash or any other fluid below 100° flash point. Contact Balcrank for additional information.
22 to 102 psi (1.5 to 7 bar)
PTFE (Teflon®), Viton®, Polypropylene, Stainless steel, Acetal, and Hytrel®
Anti-freeze (Glycol) and windshield wash solution
Fluid dispensing, transfer, and DEF